Southwest Concourse, UMASS Amherst
The new concourse in the Southwest living area of the UMASS Amherst campus is a beautiful example of modern stormwater management.  The multiple platforms and levels reveal a vast number of local plant species with trenches and ramps that zigzag across the site to create a peaceful green place to walk through or sit for a while.  Completed in September of 2011, the revitalization project here transformed what was once a 70% impervious site (meaning water could not drain through the surface upon which landed, creating runoff) to 60% pervious (source:  http://www.umass.edu/sustainability/green-campus/southwest-concourse). The concourse utilizes a number of techniques like runnels (a channel to divert water), vegetated swales (a broad, vegetated channel with vegetation on its sides and bottom), rain gardens, tree box filters, and engineered soils to transport and infiltrate stormwater, thereby improving drainage in the area.

Steven Stimson of Steven Stimson Associates was the project designer and is also a graduate of the university. The Southwest Concourse is among a number of similar projects for the firm, which includes a project at Amherst College that provided the campus with 70,000 square feet of green roofs and an international village at Northeastern University that boasts a Gold LEED certification.
But the site does not readily translate for everyday users.  While any landscape designer would probably sing the project's praises for wrapping a sustainable solution into such an aesthetically pleasing package,  what about those who deal with it every day, the students? After asking a few about the new concourse the response was interesting.  Some said although it looked good they didn't understand the layout, or said that it was "a hazard in the snow," referring to the ramps that cross the trenches and terraced land.  For the most part, upon hearing that there was a method to the design and that most of the concourse served a purpose, students seemed to have a better appreciation and no longer saw it as a "funky short cut."  Perhaps some well-placed signage would be worthwhile to help inform the concourse's daily occupants about the function intrinsic to its form.

This project is a testament to modern green approaches to stormwater management.  It shows just how much aesthetic quality these sites can have, and in this case, how a good design can create a green oasis atmosphere in what was previously a "concrete jungle."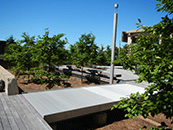 Metal Ramps
Lower Concourse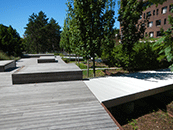 Mixed Materials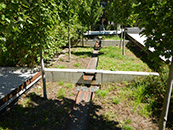 Drainage Ditch